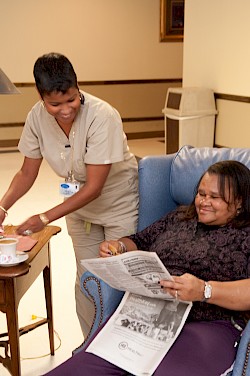 At Trinity Hill Care Center, our Social Services department is staffed with concerned, dedicated professionals. 
The Social Services team helps residents adjust to becoming members of their new community, work with residents on a one-to-one basis and serve as a liaison between staff and families. They are here to answer questions and offer support and guidance.
Social Workers interact with all disciplines and programs within our facility to ensure that the residents' individual needs are addressed while under our care. The goal is rehabilitation and stabilization while planning for a safe and successful discharge home.
Our Social Services team is dedicated to working with residents and their families to not only provide direct support, but to provided connections with community supports as a component of our discharge planning.