Welcome to Trinity Hill Care Center
Yong Crandall
Administrator
Dear Resident and Family Members,
I would like to welcome you to Trinity Hill Care Center. We are located in the south end of Hartford on Hillside Avenue and are privileged to care for residents from Hartford and around the entire region.
My staff and I are dedicated to fulfilling our Center's mission of "Enriching the Lives of the Residents We Serve."  We accomplish this goal every day by teaching our staff to look at our patients as guests and making their stay as comfortable, effective and enjoyable as possible.   
Our resident rooms have been upgraded to include amenities like flat screen televisions that will make your stay with us more comfortable.  Our "point of service" dining program is designed to give our residents the widest selection of meal preferences.  Our dedication continues even after discharge with calls from our social work staff making sure that discharge arrangements are working as planned. Continue reading

Specialty Services

iCare Health Network Blog
All the latest news, discussion, and updates from the iCare & Touchpoints Rehab team.
March 13-17, 2023 is National Long Term-Care Administrator's Week. During this week, staff, residents, families, and volunteers have the opportunity to say "thank you" and honor the administrators who lead our nation's long-term care communities.  A heartfelt and sincere thank you from all of us at iCare Health Network to our dedicated Administrator team who continues to lead through challenging times and work tirelessly to safeguard and enrich the lives of the residents we serve. 
"I am grateful to Trinity Hill for taking me in and saving my life. I feel safe and thankful to everyone that helped rescue me."
~ Resident MC (January 2022)
"Rated 10/10. The staff goes above and beyond. They make sure I get my medicine. They listen and sometimes that is all you need is someone to listen. All the aides are excellent and thank you to all you do for us."
~ Resident MF (March 2021)
"Thank you so much for all you do here! If it wasn't for bingo, karaoke, birthday parties, fantasy football and especially fresh air this would have been a very different experience for me. You guys put your heart into all the activities you do here. It really makes a difference. I owe a lot of my healing to you guys. I'm really going to miss you all. So thank you so much for giving your all, for being here even on the weekends to keep us going! Thank you for making me feel special. Thank you for giving me the tools to express myself."
~ Patient RM (excerpted from a letter, September 2019)
"The personnel was knowledgeable and very friendly. The people at the front desk were helpful, too. It's a good place to send your relatives to. They treat you like a … decent human being, whether it's for [iRecovery] or for any other care. the caregivers made sure that he was physically and mentally ready to go home. They talked to me about how to get the house ready and about his meds. I was very impressed. I'm glad he went there."
~ GS - Patient's Mother (March 2019)
"I had a very dear friend who was here and when I needed skilled nursing services, I decided to come too. I knew my care needs would be met, and I was happy to know someone who was here. I really enjoy the many recreational activities and feel the staff is very caring. I recommend others to come and experience good care too."
~ Deborah Williams
"I too had a very dear friend who was admitted to Trinity Hill in the past. When I required care, I picked Trinity. I find the staff to be very attentive to my needs and the recreational activities are excellent. I would recommend Trinity to anyone who would need a place where the care is compassionate and the staff goes beyond what is expected. We are more like family than patients."
~ Connie Bonnessi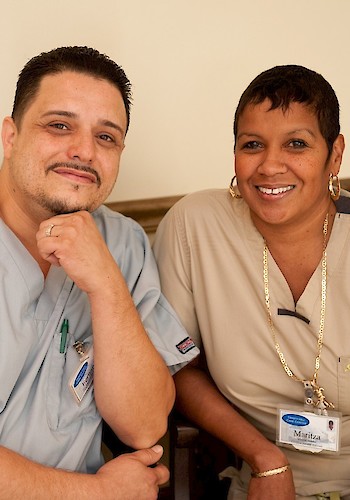 "I was referred to come and work at Trinity Hill by my wife, and I really like it here. I would recommend anyone to work here that wanted a job in healthcare. I would also recommend anyone who needed Skilled Nursing Services to come here- My mom is here now."
~ Fernando Dejesus