Welcome to Trinity Hill Care Center
George Kingston
Administrator
Dear Resident and Family Members,
I would like to welcome you to Trinity Hill Care Center. My staff and I are dedicated to fulfilling our Center's mission of "Enriching the Lives of the Residents we Serve".  We accomplish this goal every day by teaching our staff to look at our patients as guests and making their stay as comfortable, effective and enjoyable as possible.   Our resident rooms have been upgraded to include amenities like flat screen televisions that will make your stay with us more comfortable.  Our "Point of Service" dining program is designed to give our Resident's the widest selection of meal preferences.  Our dedication continues even after discharge with calls from our social work staff making sure that discharge arrangements are working as planned.
Selecting a nursing facility can be difficult. Even after visiting, it's hard to evaluate the care that each location provides.  In an effort to help consumers, the Centers for Medicare and Medicaid developed the Five Star Quality Rating System to provide residents and families with an easy to understand summary of nursing home quality.  Nursing homes are given one to five stars.  One star for being much below average to five star for being much above average. Trinity Hill is consistently rated as Four or Five Stars by CMS.   Continue reading

Specialty Services

iCare Heartbeat
All the latest news, discussion, and updates from the iCare & Touchpoints Rehab team.
Sarah Howroyd, Manchester native, licensed social worker, and honored change agent, was recently chosen to receive the 2020 GMCC Community Achievement Award. Each year the Community Achievement Award is given to a special individual as gratitude for all they do to help make Manchester a better place to live, work, and do business. This award, in its 25th year, is presented to an individual who exemplifies the true meaning of community; one who volunteers, who leads, who gives freely of themselve…

The East Windsor Office of Massachusetts based NRX Logistics kindly and generously sent an ice cream truck to Fresh River Healthcare on Thursday. NRX's Facility Manager, John Navin, shared that the company wanted to thank front line workers and share some fun.  Administrator Jim Christofori and team were spotted ordering and enjoying cold treats. Thanks so much John Navin and the NRX team for thinking of Fresh River Healthcare and for your generosity! 

George Floyd was created in the image of God yet he was deprived of his unalienable rights, his life and his future. We condemn this senseless killing and pray that the Lord uses this tragedy and the others that have unfolded in recent weeks as a seminal event towards change.  iCare supports the fight against racism in all its forms. As a company that wholeheartedly embraces diversity and celebrates its communities of color, we reject injustice, inequality, discrimination, violence and hate.  …

Sarah and Stephanie Cota of Abby's Helping Hand, presented 100 gift bags each to Touchpoints at Chestnut and Fresh River Healthcare leadership. The gifts were for the care center staff to express gratitude and support for all they do to provide care for their residents, especially in these challenging times. According to their website, the mission of Abby's Helping Hand is to improve the quality of life for those afflicted with mitochondrial and other chronic diseases through support, educat…

Connecticut nursing home employees are 'family…where family can't be.' How do we know there will be a 'Better Day"? Because these amazing caregivers are laser-focused on compassionate care and recovery. They are making it happen now. There will be a Better Day.

Taking a moment to solemnly remember, celebrate and eternally thank those that gave their life in the service of the greater good, in the service of their country, and in the service of all of us. On behalf of a grateful nation. 
"Thank you so much for all you do here! If it wasn't for bingo, karaoke, birthday parties, fantasy football and especially fresh air this would have been a very different experience for me. You guys put your heart into all the activities you do here. It really makes a difference. I owe a lot of my healing to you guys. I'm really going to miss you all. So thank you so much for giving your all, for being here even on the weekends to keep us going! Thank you for making me feel special. Thank you for giving me the tools to express myself."
~ Patient RM (excerpted from a letter, September 2019)
"The personnel was knowledgeable and very friendly. The people at the front desk were helpful, too. It's a good place to send your relatives to. They treat you like a decent human being, whether it's for [iRecovery] or for any other care. the caregivers made sure that he was physically and mentally ready to go home. They talked to me about how to get the house ready and about his meds. I was very impressed. I'm glad he went there."
~ GS - Patient's Mother (March 2019)
"I had a very dear friend who was here and when I needed skilled nursing services, I decided to come too. I knew my care needs would be met, and I was happy to know someone who was here. I really enjoy the many recreational activities and feel the staff is very caring. I recommend others to come and experience good care too."
~ Deborah Williams
"I too had a very dear friend who was admitted to Trinity Hill in the past. When I required care, I picked Trinity. I find the staff to be very attentive to my needs and the recreational activities are excellent. I would recommend Trinity to anyone who would need a place where the care is compassionate and the staff goes beyond what is expected. We are more like family than patients."
~ Connie Bonnessi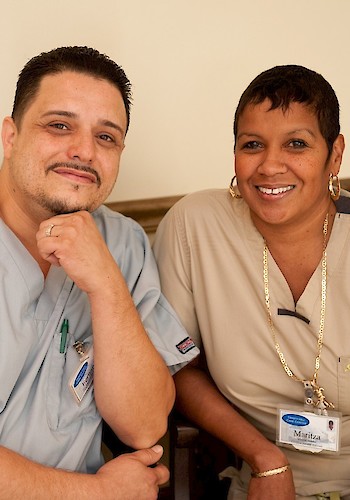 "I was referred to come and work at Trinity Hill by my wife, and I really like it here. I would recommend anyone to work here that wanted a job in healthcare. I would also recommend anyone who needed Skilled Nursing Services to come here- My mom is here now."
~ Fernando Dejesus